Cattle Immune Health Testing

BETTER IMMUNE HEALTH, BETTER PRODUCTIVITY

WHY TEST THE IMMUNE HEALTH OF YOUR CATTLE?


A balanced immune system is important for the welfare and productivity of farm animals. Cattle with good immune health are less prone to diseases, healthier and more productive. When an animal is infected with bacteria, viruses or other pathogens, the immune system of the animal is activated. An active immune status is a sign of potential infection. During pregnancy, the immune system of cows and heifers has to make certain changes to maintain a pregnancy to full term. Lack of such changes is known to cause early pregnancy loss. However, these immune activity changes also make pregnant and transition cows and heifers more vulnerable to infectious diseases. By closely monitoring the immune status of a cattle herd, cattle owners can discover sick animals earlier, identify pregnant cows and heifers with underlying reproductive health problems for prompt treatment, identify animals with strong immune system and avoid excessive use of antibiotics on healthy and low risk animals.
WHAT IS D2Dx™ IMMUNITY TEST?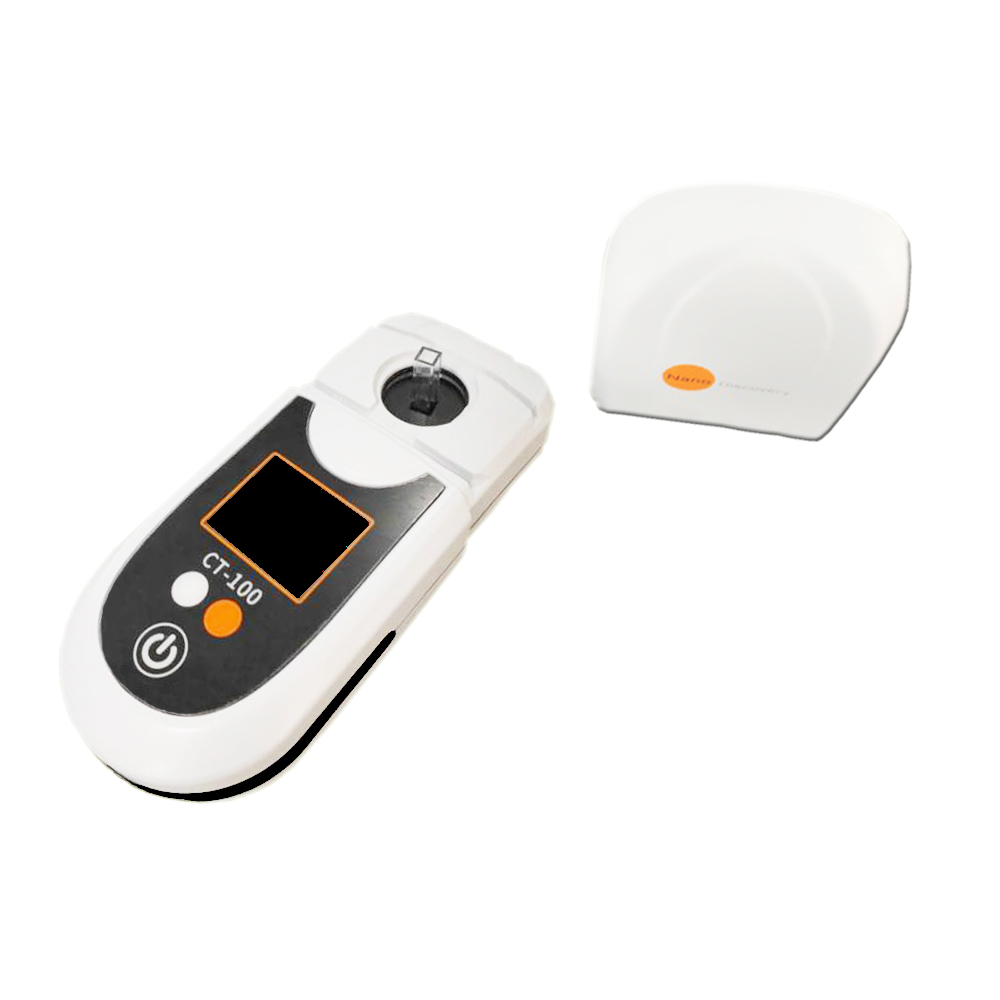 D2Dx™ immunity test is a rapid blood test for testing the general immune status and health of animals and humans. Research studies conducted by Nano Discovery and its partners have shown that D2Dx™ test can identify calves with underlying infections; identify dairy cows that are more likely to develop health problems and infectious diseases following calving; and identify calves with good immune health that can gain more body weight in a feedlot. D2Dx™ test can potentially bring many benefits to cattle owners by helping owners monitor the health of their cattle herd more closely, select animals with the best immune health for breeding, reduce the use of antibiotics, make informative management decisions, reduce cost and improve productivity.
D2DX ™ IMMUNITY TEST SETUP PACKAGE
This is a one-time setup package that is required to run the D2Dx ™ immunity test in your farm or clinics.

D2DX ™ IMMUNITY TEST KITS
Each test kit contains the reagent and consumables to run 200 tests. For large quantity orders, please contact us for discount information.
$10.00/test
200 tests/kit

D2DX ™ IMMUNITY TEST SERVICE
You may submit blood samples to Nano Discovery Inc. for testing. The blood sample needs to be collected into an EDTA blood plasma tube. The samples need to be shipped to Nano Discover Inc. using a second day arrival priority shipping method. Please contact us for additional requirements.
Free Products and Research Grants for Qualified University Researchers
Nano Discovery Inc. continues to work with scientists around the world to explore the additional applications of D2Dx™ immunity test on animal health and animal science research. Nano Discovery Inc. offers free products from time to time to qualified researchers. Additionally, we offer small grants in the amount of $1,000-$10,000 to assistant professor-level faculty to support your research projects that are pertinent to Nano Discovery's interest. Please submit your inquiry and non-confidential research summary to us for consideration: info@nanodiscoveryinc.com
We are particularly interested in the following research topics, although other topics may be considered as well:

Immune health, infectious disease prevention and management of dairy cows
Infectious disease prevention and control of feeder calves

Immune health and study of newborn calves
Free Products and Discounts for Qualified Farm and Ranch Owners

Nano Discovery Inc. is interested in additional field testing of various applications of D2Dx™ immunity test on beef and dairy cattle. If you are beef ranch owners, feed lot owners or dairy farm owners, and are interested in offering your site for our field trial, please contact us today.

We provide free products for the trial if you are selected

You will be qualified for additional discount once the trial study is successfully completed

2020 - Zheng, T.; Moustafa, Y.; Finn, C.; Scott, S.; Haase, C.J.; Carpinelli, N.A.; Osorio, J.S.; McKinstry, K.K.; Strutt, T.M.; Huo, Q. A rapid blood test to monitor immunity shift during pregnancy and potential application for animal health management. Sensors International 2020, article 100009.
2019 - Zheng, T.; Crews, J.C.; McGill, J.L.; Khunal, D.; Finn, C.; Strutt, T.M.; McKinstry, K.K.; Huo, Q. A single-step gold nanoparticle-blood serum interaction assay reveals humoral immunity development and immune status of animals from neonates to adults. ACS Infectious Diseases, 2019, 5, 228-238.
CONTACT US
---
Please use the following form to place order or make further inquiries. We will get back to you as soon as possible.